Tankless Water Heaters for Commercial Applications
Navien

new NPE-2 series condensing

and NPN series non-condensing are the leading tankless water heaters on the market.
Features & benefits include:
Cuts installation time in half
With 1/2" gas pipe & 2" PVC venting, Navien commercial tankless water heaters install twice as fast as competing models. Navien EZNav™ intuitive controls with setup wizard make startup a breeze.
Unmatched performance & durability
Navien commercial tankless water heaters are the first to offer durable stainless steel heat exchangers for faster heating, corrosion resistance, and extended service life.
Easily meet larger flow requirements
Multiple NPE/NPN tankless water heaters can be cascaded to meet high-volume hot water needs, making them perfect for commercial applications. Navien's cascading technology balances workload and allows common venting up to 12 units.
Choose

the best commercial tankless water heaters

& get more for your money
Building owners & property managers

appreciate the efficiency and reliability of Navien tankless water heaters over outdated tank systems.

Architects & commercial builders

like the space-saving design and flexible configuration. Our pin-to-pin design matches the configuration of other tankless models for easy retrofit installation.

Contractors

love Navien's customer support, training resources, and our industry-leading commercial warranty for added peace of mind.
Cost-effective tankless hot water heaters

ideal for a wide variety of commercial applications:
Restaurants & bars
Hotels, spas & resorts
Commercial kitchens
Laundromats
Schools & dormitories
Hospitals & clinics
Multi-family homes & condos
Industrial facilities
Municipal buildings
NPE-2 Series:
Best-selling commercial condensing tankless water heaters

for ultra-high efficiency and lower emissions.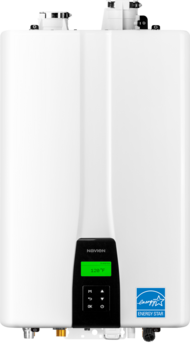 Explore NPE-A2 Series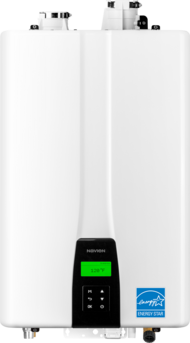 Explore NPE-S2 Series
Premium high efficiency up to .96 UEF and 15:1 TDR
NPE-A2 (advanced) and NPE-S2 (standard) models
Lower operating cost than competing tankless models
Dual condensing stainless steel heat exchangers for lower CO2 emissions & exhaust temperatures
Patented built-in ComfortFlow system with buffer tank, recirculation pump & fine-tuned controls (NPE-A2)
Backlit EZNav control panel for simple setup, status checks & troubleshooting
NPN Series: The first and only commercial non-condensing tankless water heaters
with a stainless steel heat exchanger and burner.
High efficiency up to .81 UEF and up to 9.5 GPM @35° temp rise
NPN-E (exterior) and NPN-U (universal interior/exterior) models
Patented NaviTech™ stainless steel heat exchanger and stainless steel burner with lean/rich stable cleaner burning technology
NaviVent™ concentric 3" x 5" venting
Integrated control panel for water temperature, operation status and troubleshooting
Units available in either Natural Gas (NG) or Liquid Propane (LP) gas
Explore NPN-U Series
Explore NPN-E Series
Commercial Tankless Water Heaters
FAQs
Tankless water heaters are a great solution for commercial applications. In fact, larger commercial applications that require more hot water have a larger savings potential when switching to tankless water heaters. This is why commercial applications have a lot to gain in efficiency and operational advantages. Not to be overlooked is placement, size and added security of redundancy that play a big part in benefitting commercial use. With proper sizing, piping design and installation, multiple tankless units in commercial and other higher demand hot water usage are a perfect choice.
In plumbing design, water fixture counts has been the design tool and criteria to calculate all building plumbing system sizing and applications. With regards to hot water, this is further broken down into hot water fixture units or HWFUs. The combination of pipe sizing and hot water demand capabilities is the then determined by diversity factors calculated for the specific application. One commonly used is the "Hunters Curve.". Assistance with sizing a specific hot water application is also offered by the NaviSizer™ calculator located on the Navien website.
In some instances, it may be physical size, capacity, ratings, and approvals. But in Navien's case the same products may be applied both commercially and residentially. The only thing that changes is the heat exchanger warranty periods. Navien's robust design and proven performance makes Navien a smart choice for all types of hot water applications. Having the industry's strongest commercial warranty and customer support gives everyone more peace of mind.
Navien offers the NPE-240 Series 2, A (Advanced) and S (Standard) models in a 199,900 BTU/h capacity.
Offering the following GPM flow rates from a single tankless at the perspective temperature rises:
80 °F (44.4 °C) rate/4.9 GPM (18.5 l/m)
100 °F (55.6 °C) rate/3.9 GPM (14.8 l/m)
140 °F (77.8 °C) rate/2.8 GPM (10.6 l/m)
By cascading multiple Navien tankless units, up to 12 - 199,900 BTU/h capacity tankless units may be common vented together for a total 48 GPM/(182 l/m) at 100 °F (55.6 °C) temperature rise. Also with the ability to cascade up to 32 - 199,900 BTU/h capacity performing as one system, 125 GPM/(475 l/m) at 100 °F (55.6 °C) temperature rise is achieved to meet some extremely large peak GPM flows in all types of circumstances. These large flows, and performance is all achieved with also one of the industries lowest firing rates of 13,300 BTU/h capacity. With a 15:1 turndown ratio (TDR) this modulation, sequential firing, lead/lag unit their operation is controlled automatically via integrated control panels and system.
One word – Absolutely! Navien has been a provider of domestic tankless hot water systems for many of the major retail food restaurants as well as locally owned and managed food service operations for over 14 years. Many restaurants require and benefit of the redundancy of multiple tankless (2 or more) to meet the high demands as well as serve as backup redundancy to never go down in service or operation due to lack of hot water.
Plumbing and design professionals are well versed in sizing and selecting a proper domestic hot water system to meet the needs of the various applications. Navien also offers a free sizing program accessible from the Navien website called NaviSizer™. This simple online program assists via custom selected applications, location and requirement inputs to help aid in proper sizing with various application options.
Most maintenance required is entirely dependent on water quality and if there is a need for water treatment. The expected maintenance intervals beside the normal screen cleanings of the air and water intakes which is usually 1-2 times a year could also involve a simple flushing process dependent on incoming water quality to assure they are operating at their peak efficiency and output performance(s).
With durable, dual stainless steel heat exchangers, Navien NPE-2 series tankless water heaters offer some the longest and best warranties in the industry commercially. With 5-years parts and 8-years heat exchanger warranties, Navien condensing tankless water heaters solve issues of reliability, durability, operating efficiency, energy and water conservation, installation and customer support for commercial applications throughout North America.
Find a Navien sales rep or 
distributor Near You
Please note: online purchases void Navien's industry-leading commercial tankless water heater warranty.
Find an Installer