Tankless Water Heaters for Commercial Applications
Navien

new NPE-2 series condensing

and NPN series non-condensing are the leading tankless water heaters on the market.
Features & benefits include:
Cuts installation time in half
With 1/2" gas pipe & 2" PVC venting, Navien commercial tankless water heaters install twice as fast as competing models. Navien EZNav™ intuitive controls with setup wizard make startup a breeze.
Unmatched performance & durability
Navien commercial tankless water heaters are the first to offer durable stainless steel heat exchangers for faster heating, corrosion resistance, and extended service life.
Easily meet larger flow requirements
Multiple NPE/NPN tankless water heaters can be cascaded to meet high-volume hot water needs, making them perfect for commercial applications. Navien's cascading technology balances workload and allows common venting up to 12 units.
Choose

the best commercial tankless water heaters

& get more for your money
Building owners & property managers

appreciate the efficiency and reliability of Navien tankless water heaters over outdated tank systems.

Architects & commercial builders

like the space-saving design and flexible configuration. Our pin-to-pin design matches the configuration of other tankless models for easy retrofit installation.

Contractors

love Navien's customer support, training resources, and our industry-leading commercial warranty for added peace of mind.
Cost-effective tankless hot water heaters

ideal for a wide variety of commercial applications:
Commercial kitchens
Hospitals & clinics
Hotels, spas & resorts
Industrial facilities
Laundromats
Multi-family homes & condos
Municipal buildings
Restaurants & bars
Schools & dormitories
NPE-2 Series:
Best-selling commercial condensing tankless water heaters

for ultra-high efficiency and lower emissions.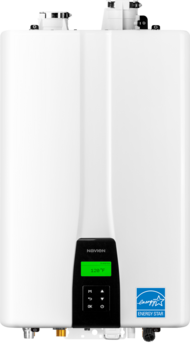 Explore NPE-A2 Series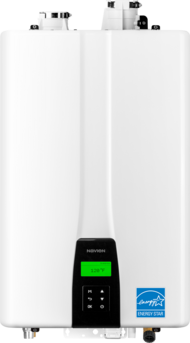 Explore NPE-S2 Series
Premium high efficiency up to .96 UEF and 15:1 TDR
NPE-A2 (advanced) and NPE-S2 (standard) models
Lower operating cost than competing tankless models
Dual condensing stainless steel heat exchangers for lower CO2 emissions & exhaust temperatures
Patented built-in ComfortFlow system with buffer tank, recirculation pump & fine-tuned controls (NPE-A2)
Backlit EZNav control panel for simple setup, status checks & troubleshooting
NPN Series: The first and only commercial non-condensing tankless water heaters

with a stainless steel heat exchanger and burner.
NPE-2 Series features:
High efficiency up to .81 UEF and up to 9.5 GPM @35° temp rise
NPN-E (exterior) and NPN-U (universal interior/exterior) models
Patented NaviTech™ stainless steel heat exchanger and stainless steel burner with lean/rich stable cleaner burning technology
NaviVent™ concentric 3" x 5" venting
Integrated control panel for water temperature, operation status and troubleshooting
Units available in either Natural Gas (NG) or Liquid Propane (LP) gas
Explore NPN-U Series
Explore NPN-E Series
Find a Navien sales rep or 
distributor Near You
Please note: online purchases void Navien's industry-leading commercial tankless water heater warranty.
Find an Installer