NPE-210A2 premium features and benefits
---
2" PVC venting up to 75 feet
Low exhaust gas temperatures allow use of PVC (including schedule 40 PVC), CPVC, polypropylene (rigid and flexible) and stainless steel venting saving time and costs.Vent Installation Detector (VID) for added safety.
---
Dual Venturi for field gas conversions. Dual Venturi system creates better combustion control and turndown ratio.
---
ComfortFlow® NPE-A2 built-in recirculation system
The patented ComfortFlow® system is the first to include a buffer tank, recirculation pump and fine-tuned controls into a tankless water heater.
---
Dual stainless steel heat exchangers for added durability.
---
EZNav™ Multi-line control with built-in intuitive software.
---
1/2" gas pipe capability up to 24' (subject to local codes). Cuts installation time, no need to install new gas lines for retrofit applications.
Compare NPE‑A2 models
NPE-180A2
Max Input: 150,000 BTU/h
Indoor or outdoor wall-hung
Residential/Commercial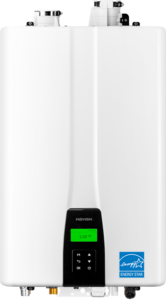 View model
NPE-180A2
NPE-210A2
Max Input: 180,000 BTU/h
Indoor or outdoor wall-hung
Residential/Commercial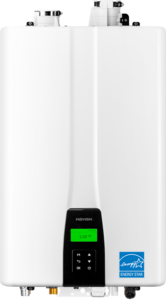 View model
NPE-210A2
NPE-240A2
Max Input: 199,900 BTU/h
Indoor or outdoor wall-hung
Residential/Commercial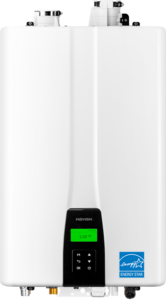 View model
NPE-240A2