NPN-160E premium features and benefits
---
Exclusive NaviTech™ stainless steel heat exchanger. The NPN series is the first and only non condensing tankless water heater with a stainless steel heat exchanger to deliver unmatched durability and performance.
---
NPN - Exterior control panel allows you to adjust water temperature, operation status and troubleshooting.
---
Built-in Air Pressure Sensor (APS) monitors the vent system for blockage, automatically compensates for the range of vent lengths, helps maintain proper air/gas ratio during operation, and ensures consistent Domestic Hot Water output during changing conditions.
---
Patented NaviTech™ stainless steel burner. Designed and manufactured by Navien to burn gas at higher efficiency than other system on the market.
---
Recirculation control built into circuit board. Ensures proper system setup, and reduces the need for additional components, saving installation time and cost.
---
Built-in Water Adjustment Valve (WAV) and Mixing Valve control flow to maintain setpoint, and stabilize water temperature during flow changes.
Compare NPN‑E models
NPN-160E
Max DHW Input: 160,000 BTU/h
Outdoor wall-hung
Residential/Commercial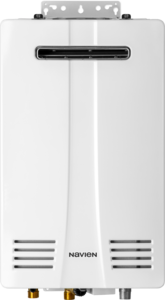 View model
NPN-160E
NPN-180E
Max DHW Input: 180,000 BTU/h
Outdoor wall-hung
Residential/Commercial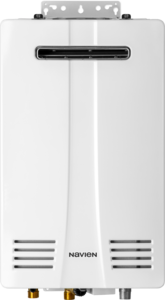 View model
NPN-180E
NPN-199E
Max DHW Input: 199,900 BTU/h
Outdoor wall-hung
Residential/Commercial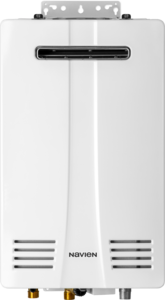 View model
NPN-199E