New NCB-H & NFC-H Series
Condensing Tankless Combi-Boilers
Navien residential combi-boilers provide endless hot water on demand, as well as whole house heating for small and large homes
NCB-H Series
The Navien NCB-H lineup offers homeowners higher turndown ratios, wider BTU ranges, longer venting for more flexible installation, an all-new easy-to-use multi-line LCD display with improved controls and intuitive navigation, and an upgraded domestic hot-water module.
 Learn more about the
NCB-H Series
NFC-H Series
NFC-H high-efficiency condensing fire tube combi-boiler series offers the highest heating and DHW performance ever built into one compact combi-boiler.
 Learn more about the
NFC-H Series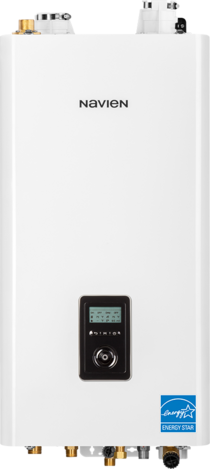 Navien NCB-H Series
Space heating up to 150,000 BTU/h  |  DHW up to 210,000 BTU/h
Navien NFC-H Series
Space heating up to 199,900 BTU/h  |  DHW 210,000 BTU/h
NAVIEN BOILERS FEATURES
The ultimate
high efficiency combi-boilers
do it all...

from the smallest apartments to larger homes
AFUE 95% Energy Star certified
Backed by the industry's strongest warranty—10 years on heat exchangers
Takes less space than floor standing boiler and tank water heater
Can be cascaded with Navien NPE-2 tankless water heaters for increased DHW flow demand
Easy to use control panel
Elegant, clean appearance
Ideal for replacements or new construction
Optional NaviLink™ WiFi remote control system
Optional NaviClean™ magnetic filtration system
Learn more about
the NCB-H Series
Learn more about
the NFC-H Series
BENEFITS OF A NAVIEN COMBI-BOILER
Hot Water Innovation
Homeowners Can Trust
Combi-Boilers FAQ's
A combi (combination) boiler is designed to heat a building, using hot water (similar to a boiler), but also includes the components and controls to internally heat the domestic hot water (DHW) required in the application. By having both heating and hot water in one unit, the combi will save space in the mechanical room and also save on the initial installation compared to separate appliances.
A combi (combination) boiler provides both space heating and on demand domestic hot water. In heating mode, water from the space heating system will flow through the heat exchanger and out to the system similar to a standard boiler. When a domestic hot water demand (open faucet) occurs, water flows through a separate heat exchanger in the combi, and a valve inside the unit diverts heating water over to the DHW heat exchanger. Space heating water is used to heat the domestic hot water until the demand ends. At the end of the domestic demand, the combi will switch back to supply space heating.
Inside the combi-boiler is a heat exchanger that separates the space heating flow from the domestic water flow, so the water in the heating system is isolated from the domestic hot water. The only thing that happens in the heat exchanger is that the heat from the higher temperature space heating water is transferred to the lower temperature domestic water.
Since the combi boiler provides both space heating and domestic hot water all in one unit, it can provide space savings over two or more units. Combi boilers also can provide endless hot water in DHW mode, similar to a tankless water heater. Combi boilers may also reduce the installation cost by reducing the number of appliances, possibly reducing the number of wall or roof penetrations required for exhaust and intake piping, and may reduce some of the gas piping requirements.
Combi-boilers do not require any additional requirements, compared to a condensing boiler and water heater. Compared to installing two different appliances, your combi-boiler installation may even have fewer requirements.
When a DHW (hot water) demand happens in a Navien combi boiler, the unit switches from space heating mode over to DHW mode. Referred to as DHW Priority, the unit will utilize the full capacity to heat the domestic hot water until the flow stops, providing endless hot water. While in DHW priority mode, the space heating is disabled. Even with a long shower or extended DHW run time, the home may lose a few degrees, but the chances of the home freezing during that time are extremely low.
The heating size of the boiler is determined by calculating the heat loss of the building, which is based on the size of the structure, the insulation value of the surfaces, and the door and window sizes. Since combi boilers also provide domestic hot water, the flow demand of the hot water fixtures also needs to be calculated to determine the maximum DHW flow required. A combi boiler size is chosen by ensuring that the unit can satisfy both demands. Typically with a combi boiler, the BTU input will be higher for the DHW demand than for the heating load. A qualified contractor can perform a heat loss and help recommend a proper boiler size.
Please see the following attachment on where you can locate your serial number.
The applicable period for this labor allowance for all water heater models is One (1) year from the effective date.
The payment and amount of any payment are subject to approval at Navien's sole discretion.
The labor allowance will be paid based on Navien's schedule of labor allowances.
Because our product involves water, electricity, and gas, there is only a limited amount of troubleshooting that can be done with a homeowner/end-user.
We recommend contacting your original installer or a Navien Service Specialist (NSS) to troubleshoot the unit.
NOTE: Charges will apply for service calls outside of 1 year labor period and/or non-warranty issues. Please see terms of our labor warranty.
Navien does not dispatch field technicians directly, but you can use our service locator to find an authorized Navien service technician near you.
If you feel like there is an issue with your unit, please have someone contact Navien Technical Support while in front of the unit with your Serial Number ready. We recommend that a license contractor, original installer, or NSS contact is the person who calls us, so we may do in depth troubleshooting to determine if there is a part failure.
Navien Technical Support will be unable to send out parts without registration of product (Serial Number, Date of Installation, Homeowner Information, and Installer Information).
Explore Tankless Combi-boiler Applications
Navien Combi boilers offer endless hot water on demand for any size home, and with heat inputs up to 199,000 BTU/H, they are compatible with a variety of whole house heating applications such as finned tube and cast iron baseboards, radiant floor heating systems, fan coils, radiators, and air handlers.
Domestic hot water (showers and faucets)

Finned tube baseboards

Cast iron baseboards

Radiant floor heating

Fan coils

Radiators

Air handlers
Lower energy bills, easier on the planet
 
Navien condensing stainless steel heat exchangers recover extra heat that would be lost in non-condensing boilers. The result is a reduction in energy consumption, lower CO2 emissions and low exhaust temperatures allowing the use of less expensive venting materials such as Schedule 40 PVC.